I recently had the good fortune of being interviewed by Today's Science, an online distributor of educational materials to high-school and college students, for their series Conversations with Scientists. We talked about how I got interested in science, what it is like being a practicing bat biologist, and my recent article on bat jamming. The article is re-printed below (with permission).
"Aaron Corcoran: A Passion for Bats." Today's Science. Infobase Learning, Dec. 2014. Web. 24 Dec. 2014.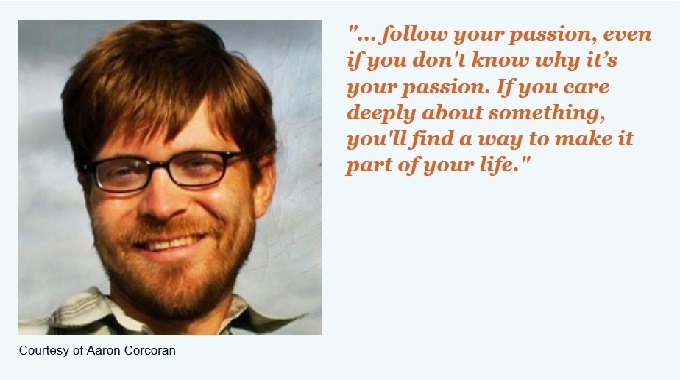 Aaron Corcoran has been a postdoctoral scholar at the University of Maryland in College Park since June 2013. He earned his bachelor's degree in wildlife in 2003 from Purdue University in Lafayette, Indiana and received his master's degree in biology in 2007 from Humboldt State University in Arcata, California. From 2007 to 2008, Corcoran was a research analyst and lecturer at Humboldt. He completed his Ph.D. in biology in 2013 at Wake Forest University in Winston-Salem, North Carolina.
Corcoran is a "scientist and educator specializing in ecology, evolution and behavior." He draws upon "a technical background in [both] computer science and biology to understand complex behavioral interactions in animals that are traditionally difficult to study (particularly bats and moths)."
Below are Aaron Corcoran's December 8, 2014 responses to questions posed to him by Today's Science. Some of the questions deal with how he became interested in science and began his career in behavorial ecology while others address particular issues raised by the research discussed in Bats Breaking Bad.
Q. When did you realize you wanted to become a scientist?
A. I became a scientist despite my best intentions not to. After studying wildlife biology at Purdue University, I worked for a couple years as a field biologist, which I loved. I spent a lot of time catching little furry animals in small traps, and tracking coyotes and deer through the Montana mountains. But I couldn't pass up an opportunity to study bat echolocation for a master's degree. Once I started doing my own research, I was hooked. There's nothing like the thrill of being the first person ever to discover something, no matter how big or small that finding might be.
Q. How did you choose your field?
A. Me and bats are a natural fit. I've always been curious about how animals behave, especially mammals. And my background in computer science (my first major in college) allowed me to study these animals that without technology are crazy difficult to study. Think about it, bats fly in the air where we can't normally go, are active at night when we can't see, and make sounds we can't hear. But there's a real thrill of unraveling the mysteries about how these animals work.
Q. Are there particular scientists, whether you know them in person or not, that you find inspiring?
A. There are many. But the scientist who inspired me the most was my Ph.D. advisor, Dr. William Conner at Wake Forest University. He taught me how to do science, how to think clearly, how to decide what questions are worth pursuing and how to make my research interesting to others. All the while, he treated me like family.
Q. What do you think is the biggest misconception about your profession?
A. Perhaps that we already know everything. I'm amazed on a regular basis to discover all the things we scientists don't know. We're brought up to think everything is known — just read a textbook. But as you learn more about any subject, you soon find the edge of human knowledge. And when you get to that point, you can start to think of really cool experiments to push that edge just a little farther for everyone else.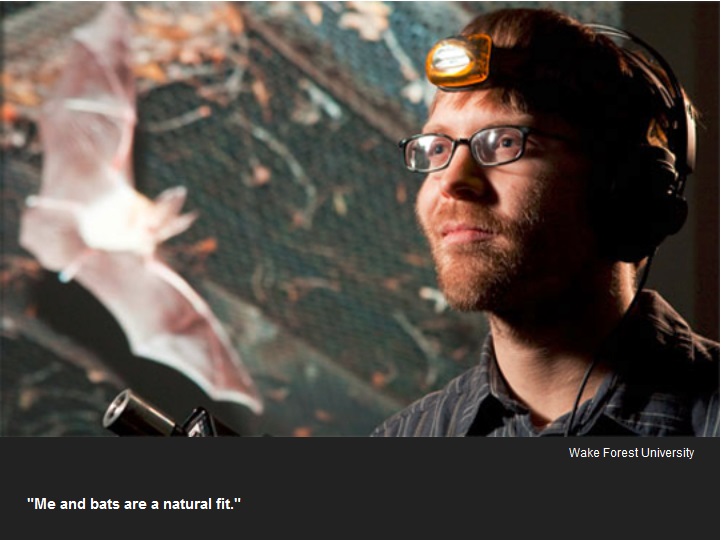 Q. Did the abundance of prey have any impact on whether bats resorted to jamming other bats — for example, if there were a lot of insects around, did they not bother?
A. This is actually the basis of one of the projects I'll be working on starting next summer. At this point we don't know, but I suspect the number of bats around and the number of insects around both play an important part in when bats compete for prey by jamming each other.
Q. Do bats jam other bats' echolocation so that the potential prey will be available to them as food, or are there any other explanations for this behavior that you considered?
A. That appears to be the reason why they do it. Right after jamming a competitor, the jammer bat flies over to where the other bat was hunting and tries to capture the insect. Often what happens next is the bat that got jammed becomes the jammer and they go back and forth until one of them gives up. It's basically aerial warfare.
Q. Your study notes that Mexican free-tailed bats "form the largest known colonies of any active sensing animal, with some caves housing more than one million individuals." Do you think the jamming behavior is related to this high population density?
A. It makes sense that the two things are related. Some bats live with up to a million other bats, which means that they have to compete with a million other bats to find food. So it makes sense that they would evolve sophisticated ways of competing with other bats.
Q. Where do you spend most of your workday? Who are the people you work with?
A. Nine months out of the year I'm working on a computer, either analyzing video and sound recordings of bats or writing papers and grant proposals. The other three months I get to be outside staying up all night while I study Bats.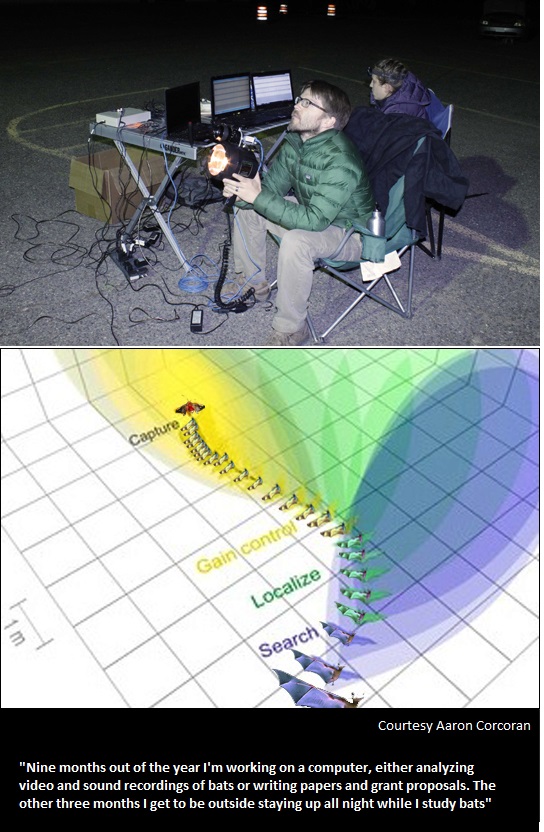 Q. What do you find most rewarding about your job?




A. There are two things about my work that I find most rewarding. The first are those eureka moments when I've discovered something new or found evidence I've worked years to attain. The second are those times when I get to share my research with people in person. It keeps the research fresh for me to open people's eyes to the wild world of bats.




Q. What has been the most exciting development in your field in the last 20 years? What do you think will be the most exciting development in your field in the next 20 years?




A. Technological advancements have revolutionized biology in so many ways. Recently and for the first time, scientists have been able to film bats (and their insect prey) in the wild with multiple infrared cameras and later map their flight paths in 3-D. Just this year we're seeing scientists mounting miniature GPS units and miniature microphones on wild bats to track their nightly forays and record all the sounds they make and hear. I think that this technology alone will really change our understanding of how bats behave in the wild. And there are many other emerging technologies.




Q. How does the research in your field affect our daily lives?




A. Discovering the wild ways of foreign critters is like exploring another planet or an alien life form. I hope that when people learn about something like bats jamming each other's echolocation, it opens their mind to something they've never even thought about. In a small way, that can ignite a person's curiosity about the world around them. Curiosity and knowledge are powerful things.




Q. For young people interested in pursuing a career in science, what are some helpful things to do in school? What are some helpful things to do outside of school?




A. First, follow your passion, even if you don't know why it's your passion. If you care deeply about something, you'll find a way to make it part of your life. And with patience, you'll get good at it. Second, find people who can guide you and who care about you. Usually those two things go hand in hand, because when someone sees another person truly following their passion, they want to help them reach their potential.

var _gaq = _gaq || []; _gaq.push(['_setAccount', 'UA-39750042-1']); _gaq.push(['_trackPageview']); (function() { var ga = document.createElement('script'); ga.type = 'text/javascript'; ga.async = true; ga.src = ('https:' == document.location.protocol ? 'https://ssl' : 'http://www') + '.google-analytics.com/ga.js'; var s = document.getElementsByTagName('script')[0]; s.parentNode.insertBefore(ga, s); })();
Categories: None